Killing Lincoln Bad History Essays
From the time of his death in 1865 to the 200th anniversary of his birth, February 12, 2009, there has never been a decade in which Abraham Lincoln's influence has not been felt. Yet it has not been a smooth, unfolding history, but a jagged narrative filled with contention and revisionism. Lincoln's legacy has shifted again and again as different groups have interpreted him. Northerners and Southerners, blacks and whites, East Coast elites and prairie Westerners, liberals and conservatives, the religious and secular, scholars and popularizers—all have recalled a sometimes startlingly different Lincoln. He has been lifted up by both sides of the Temperance Movement; invoked for and against federal intervention in the economy; heralded by anti-communists, such as Senator Joseph McCarthy, and by American communists, such as those who joined the Abraham Lincoln Brigade in the fight against the fascist Spanish government in the 1930s. Lincoln has been used to justify support for and against incursions on civil liberties, and has been proclaimed both a true and a false friend to African-Americans. Was he at heart a "progressive man" whose death was an "unspeakable calamity" for African-Americans, as Frederick Douglass insisted in 1865? Or was he "the embodiment...of the American Tradition of racism," as African-American writer Lerone Bennett Jr. sought to document in a 2000 book?
It is often argued that Lincoln's abiding reputation is the result of his martyrdom. And certainly the assassination, occurring as it did on Good Friday, propelled him into reverential heights. Speaking at a commemoration at the Athenaeum Club in New York City on April 18, 1865, three days after Lincoln died, Parke Godwin, editor of the Evening Post, summed up the prevailing mood. "No loss has been comparable to his," Godwin said. "Never in human history has there been so universal, so spontaneous, so profound an expression of a nation's bereavement." He was the first American president to be assassinated, and waves of grief touched every type of neighborhood and every class—at least in the North. But the shock at the murder explains only part of the tidal wave of mourning. It is hard to imagine that the assassination of James Buchanan or Franklin Pierce would have had the same impact on the national psyche. The level of grief reflected who Lincoln was and what he had come to represent. "Through all his public function," Godwin said, "there shone the fact that he was a wise and good man.... [He was] our supremest leader—our safest counsellor—our wisest friend—our dear father."
Not everyone agreed. Northern Democrats had been deeply opposed to Lincoln's wartime suspension of habeas corpus, which led to the imprisonment without trial of thousands of suspected traitors and war protesters. Though Lincoln had taken care to proceed constitutionally and with restraint, his opponents decried his "tyrannical" rule. But in the wake of the assassination even his critics were silent.
Across much of the South, of course, Lincoln was hated, even in death. Though Robert E. Lee and many Southerners expressed regret over the murder, others saw it as an act of Providence, and cast John Wilkes Booth as the bold slayer of an American tyrant. "All honor to J. Wilkes Booth," wrote Southern diarist Kate Stone (referring as well to the simultaneous, though not fatal, attack on Secretary of State William Seward): "What torrents of blood Lincoln has caused to flow, and how Seward has aided him in his bloody work. I cannot be sorry for their fate. They deserve it. They have reaped their just reward."
Four years after Lincoln's death, Massachusetts journalist Russell Conwell found widespread, lingering bitterness toward Lincoln in the ten former Confederate states that Conwell visited. "Portraits of Jeff Davis and Lee hang in all their parlors, decorated with Confederate flags," he wrote. "Photographs of Wilkes Booth, with the last words of great martyrs printed upon its borders; effigies of Abraham Lincoln hanging by the neck...adorn their drawing rooms." The Rebellion here "seems not to be dead yet," Conwell concluded.
For their part, African-Americans' pangs of loss were tinged with fear for their future. Few promoted Lincoln's legacy more passionately than critic-turned-admirer Frederick Douglass, whose frustration at the presidency of Andrew Johnson kept growing. Lincoln was "a progressive man, a human man, an honorable man, and at heart an antislavery man," Douglass wrote in December 1865. "I assume...had Abraham Lincoln been spared to see this day, the negro of the South would have had more hope of enfranchisement." Ten years later, at the dedication of the Freedmen's Memorial in Washington, D.C., Douglass seemed to recant these words, calling Lincoln "preeminently the white man's President" and American blacks "at best only his step-children." But Douglass' purpose that day was to puncture the sentimentality of the occasion and to criticize the government's abandonment of Reconstruction. And in the final decades of his long life Douglass repeatedly invoked Lincoln as having embodied the spirit of racial progress.
Douglass' worries about America proved prophetic. By the 1890s, with the failure of Reconstruction and the advent of Jim Crow, Lincoln's legacy of emancipation lay in ruins. Regional reconciliation—the healing of the rift between North and South—had supplanted the nation's commitment to civil rights. In 1895, at a gathering of Union and Confederate soldiers in Chicago, the topics of slavery and race were set aside in favor of a focus on North-South reconciliation. As the 1909 centennial of Lincoln's birth approached, race relations in the country were reaching a nadir.
In August 1908, riots broke out in Lincoln's hometown of Springfield, Illinois, after a white woman, Mabel Hallam, claimed she had been raped by a local black man, George Richardson. (She later admitted to making up the story.) On Friday, August 14, two thousand white men and boys began to attack African-Americans and set fire to black businesses. "Lincoln freed you," rioters were heard to yell. "We'll show you where you belong." The next night, the mob approached the shop of William Donnegan, a 79-year-old African-American shoemaker who had made boots for Lincoln and at whose brother's barbershop Lincoln used to mingle with African-Americans. Setting fire to Donnegan's shop, the mob dragged the old man outside and pelted him with bricks, then slashed his throat. Still alive, he was dragged across the street into a school courtyard. There, not far from a statue of Abraham Lincoln, he was hoisted up a tree and left to die.
Horrified by the reports of such ugly violence, a group of New York City activists formed the National Negro Committee, soon to be renamed the NAACP, with a young scholar named W.E.B. Du Bois to serve as director of publicity and research. From its beginning, the organization's mission was intertwined with Lincoln's, as one of its early statements made clear: "Abraham Lincoln began the emancipation of the Negro American. The National Association for the Advancement of Colored People proposes to complete it."
The centennial of Lincoln's birth marked the largest commemoration of any person in American history. The Lincoln penny was minted, the first coin bearing the image of an American president, and talks took place in Washington about a grand Lincoln monument to be erected in the nation's capital. All across the country, and in many nations around the world, America's 16th president was extolled. An editorial in the London Times declared, "Together with Washington, Lincoln occupies a pinnacle to which no third person is likely to attain." The commander of the Brazilian Navy ordered a 21-gun salute "in homage to the memory of that noble martyr of moral and of neighborly love." The former states of the Confederacy, which less than 50 years earlier had rejoiced at Lincoln's death, now paid tribute to the leader who had reunified the nation. W. C. Calland, a state official in Missouri—which, during the Civil War, had been a border state that contributed 40,000 troops to the Confederate cause—barely contained his astonishment in a memorandum reporting on the festivities: "Perhaps no event could have gathered around it so much of patriotic sentiment in the South as the birthday of Abraham Lincoln....Confederate veterans held public services and gave public expression to the sentiment, that had 'Lincoln lived' the days of reconstruction might have been softened and the era of good feeling ushered in earlier."
In most of America the celebrations were thoroughly segregated, including in Springfield, where blacks (with the exception of a declined invitation to Booker T. Washington) were excluded from a dazzling gala dinner. As the Chicago Tribune reported, it "is to be a lily white affair from start to finish." Across town, inside one of Springfield's most prominent black churches, African-Americans met for their own celebration. "We colored people love and revere the memory of Lincoln," said the Rev. L. H. Magee. "His name is a synonym for the freedom of wife, husband and children, and a chance to live in a free country, fearless of the slave-catcher and his bloodhounds." Referring to the "sacred dust of the great emancipator" lying in Springfield's Oak Ridge Cemetery, Magee called upon black people across America to make pilgrimages to Lincoln's tomb. And he cast his gaze forward a hundred years—to the bicentennial of 2009—and envisioned a Lincoln celebration "by the great-grandchildren of those who celebrate this centenary." In that far-off year, Magee predicted, "prejudice shall have been banished as a myth and relegated to the dark days of 'Salem witchcraft.' "
A notable exception to the rule of segregated commemorations took place in Kentucky, where President Theodore Roosevelt, a longtime Lincoln admirer, presided over a dramatic ceremony at the old Lincoln homestead. Lincoln's birth cabin, of dubious provenance, had been purchased from promoters who had been displaying it around the country. Now the state, with Congressional support, planned to rebuild it on its original site, on a knoll above the Sinking Spring that had originally attracted Thomas Lincoln, the president's father, to the property. The 110-acre farmstead would become the "nation's commons," it was declared—a crossroads linking the entire country.
Seven thousand people showed up for the dedication, including a number of African-Americans, who mixed in among the others with no thought of separation. When Roosevelt began his speech he hopped onto a chair and was greeted by cheers. "As the years [roll] by," he said in his crisp, excitable voice, "...this whole Nation will grow to feel a peculiar sense of pride in the mightiest of the mighty men who mastered the mighty days; the lover of his country and of all mankind; the man whose blood was shed for the union of his people and for the freedom of a race: Abraham Lincoln." The ceremony in Kentucky heralded the possibility of national reconciliation and racial justice proceeding hand in hand. But that was not to be, as the dedication of the Lincoln Memorial in Washington, D.C. 13 years later would make all too clear.
Members of the Lincoln Memorial commission—created by Congress in 1911—saw the monument not only as a tribute to the 16th president but also as a symbol of a reunified nation. With Northerners and Southerners having fought side by side in the Spanish-American War of 1898 and again in World War I, it was time, they felt, to put aside sectional differences once and for all. This meant that the Lincoln honored on the National Mall must not be the man who had broken the South militarily or had crushed the institution of slavery but the preserver of the Union. "By emphasizing his saving the Union you appeal to both sections," wrote Royal Cortissoz, author of the inscription that would be etched inside the finished building behind Daniel Chester French's nearly 20-foot-tall sculpture of the seated Lincoln. "By saying nothing about slavery you avoid the rubbing of old sores."
Two American presidents—Warren G. Harding and William Howard Taft—took part in the dedication ceremonies held on May 30, 1922, and loudspeakers on the memorial's rooftop carried the festivities across the Mall. Black guests were seated in a "colored section" off to the side. The commissioners had included a black speaker in the program; not wanting an activist who might challenge the mostly white audience, they had chosen Robert Russa Moton, the mild-mannered president of Tuskegee Institute, and required him to submit his text in advance for revision. But in what turned out to be the most powerful speech of the day, Moton highlighted Lincoln's emancipationist legacy and challenged Americans to live up to their calling to be a people of "equal justice and equal opportunity."
In the days that followed, Moton's speech went almost entirely unreported. Even his name was dropped from the record—in most accounts Moton was referred to simply as "a representative of the race." African-Americans across the country were outraged. The Chicago Defender, an African-American weekly, urged a boycott of the Lincoln Memorial until it was properly dedicated to the real Lincoln. Not long afterward, at a large gathering in front of the monument, Bishop E.D.W. Jones, an African-American religious leader, insisted that "the immortality of the great emancipator lay not in his preservation of the Union, but in his giving freedom to the negroes of America."
In the decades since, the Lincoln Memorial has been the scene of many dramatic moments in history. A photograph of President Franklin D. Roosevelt taken at the memorial on February 12, 1938, shows him leaning against a military attaché, his hand on his heart. "I do not know which party Lincoln would belong to if he were alive," Roosevelt said two years later. "His sympathies and his motives of championship of humanity itself have made him for all centuries to come the legitimate property of all parties—of every man and woman and child in every part of our land." On April 9, 1939, after being denied the use of Constitution Hall in Washington because of her race, the great contralto Marian Anderson was invited to sing at the Lincoln Memorial. Seventy-five thousand people, black and white, gathered at the monument for an emotional concert that further linked Lincoln's memory to racial progress. Three years later, during the bleak days of World War II, when it seemed that the Allies might lose the war, Lincoln's memory served as a potent force of national encouragement. In July 1942, on an outdoor stage within view of the Lincoln Memorial, a powerful performance of Aaron Copland's "Lincoln Portrait" took place, with Carl Sandburg reading Lincoln's words, including "we here highly resolve that these dead shall not have died in vain."
In 1957, a 28-year-old Martin Luther King Jr. came to the Lincoln Memorial to help lead a protest for black voting rights. "The spirit of Lincoln still lives," he had proclaimed before the protest. Six years later, in 1963, he returned for the March on Washington. The August day was bright and sunny, and more than 200,000 people, black and white, converged on the Mall in front of the Lincoln Memorial. King's speech called Lincoln's Emancipation Proclamation "a beacon of hope to millions of Negro slaves who had been scarred in the flame of withering injustice." But it was not enough, he went on, simply to glorify the past. "One hundred years later we must face the tragic fact the Negro is still not free....is still sadly crippled by the manacles of segregation and the chain of discrimination." And then he told the enraptured crowd, "I have a dream." Author and New York Times book critic Richard Bernstein later called King's words "the single most important piece of American oratory since Lincoln's Gettysburg Address."
Just three months after the speech, President John F. Kennedy would be assassinated, ushering in a period of national grief not unlike that after Lincoln's murder. Also echoing the previous century, Kennedy's efforts to advance civil rights had prompted some to mourn him as the "second emancipator." A. Philip Randolph, who had organized the March on Washington, declared that the time had come to complete "this unfinished business of American democracy for which two presidents have died."
To address a profound need for national healing and unity, JFK's widow, Jacqueline Kennedy—in consultation with other family members and official planners—decided to model her slain husband's funeral upon Lincoln's. The president's casket was laid in state inside the White House East Room, and was later taken to the Great Rotunda of the Capitol and rested upon the catafalque used at Lincoln's funeral. On their final procession to Arlington National Cemetery, the funeral cars passed reverently by the Lincoln Memorial. One of the most poignant images from that era was a political cartoon drawn by Bill Mauldin, depicting the statue of Lincoln bent over in grief.
In the nearly half century since, Lincoln's reputation has been under assault from various quarters. Malcolm X broke with the long tradition of African-American admiration for Lincoln, saying in 1964 that he had done "more to trick Negroes than any other man in history." In 1968, pointing to clear examples of Lincoln's racial prejudice, Lerone Bennett Jr. asked in Ebony magazine, "Was Abe Lincoln a White Supremacist?" (His answer: yes.) The 1960s and '70s were a period in which icons of all kinds—especially great leaders of the past—were being smashed, and Lincoln was no exception. Old arguments surfaced that he had never really cared about emancipation, that he was at heart a political opportunist. States' rights libertarians criticized his aggressive handling of the Civil War, his assaults on civil liberties and his aggrandizing of federal government.
In particular, the Nixon administration's perceived abuse of executive power during the Vietnam War prompted unflattering comparisons with Lincoln's wartime measures. Some scholars, however, rejected such comparisons, noting that Lincoln reluctantly did what he thought necessary to preserve the Constitution and the nation. Historian Arthur Schlesinger Jr., for one, wrote in 1973 that since the Vietnam War didn't rise to the same level of national crisis, Nixon "has sought to establish as a normal Presidential power what previous Presidents had regarded as power justified only by extreme emergencies. . . . He does not, like Lincoln, confess to doubt about the legality of his course."
Decades later, another war would again bring Lincoln's legacy to the fore. Shortly after the terrorist attacks of September 11, 2001, President George W. Bush addressed Congress with words evocative of Lincoln's comments at the outset of the Civil War: "The course of this conflict is not known," Bush said, "yet its outcome is certain. Freedom and fear, justice and cruelty, have always been at war, and we know that God is not neutral between them." As in the Vietnam era, subsequent controversies over the White House's conduct of the war on terror—such as the use of secret wiretapping and the detention of "enemy combatants" without trial—provoked another round of debates over presidential powers and the precedents created by Lincoln.
Despite such lingering controversies, Lincoln has consistently polled as one of the three greatest U.S. presidents, along with George Washington and Franklin D. Roosevelt. And though many African-Americans lost their veneration for him over the decades, recent statements by President Barack Obama and others suggest renewed appreciation. It was black Americans, after all, who refused to give up on Lincoln's emancipationist legacy even when American whites wanted to forget it. And if Lincoln shared in the racial prejudice of his day, it is also true that his outlook grew significantly over the years of his presidency. He was "the first great man that I talked with in the United States freely," Frederick Douglass wrote, "who in no single instance reminded me of the difference between himself and myself, of the difference of color."
And yet, as Bennett and others have rightly insisted, the Lincoln of earlier generations of blacks was also in part a mythic figure—his own racial prejudices passed over too lightly, even as African-Americans' roles in emancipation were underemphasized. In a series of 1922 editorials for the NAACP journal the Crisis, W.E.B. Du Bois stressed the importance of taking Lincoln off his pedestal in order to place attention on the need for ongoing progress. But Du Bois refused to reject Lincoln in the process. "The scars and foibles and contradictions of the Great do not diminish but enhance the worth and meaning of their upward struggle," he wrote. Of all the great figures of the 19th century, "Lincoln is to me the most human and lovable. And I love him not because he was perfect but because he was not and yet triumphed." In a 2005 essay in Time magazine, Obama said much the same thing: "I am fully aware of his limited views on race. But...[in] the midst of slavery's dark storm and the complexities of governing a house divided, he somehow kept his moral compass pointed firm and true."
Lincoln will always remain the president who helped destroy slavery and preserved the Union. With stubbornness, caution and an exquisite sense of timing, he engaged almost physically with unfolding history. Derided by some as an opportunist, he was in fact an artist, responding to events as he himself changed over time, allowing himself to grow into a true reformer. Misjudged as a mere jokester, incompetent, unserious, he was in fact the most serious actor on the political stage. He was politically shrewd, and he took a long view of history. And he knew when to strike to obtain his ends. Just for his work on behalf of the 13th Amendment, which abolished slavery in the United States, he has earned a permanent place in the history of human freedom.
In addition, he was a man of patience who refused to demonize others; a person of the middle who could build bridges across chasms. Herein may lie one of his most important legacies—his unwavering desire to reunite the American people. In Chicago's Grant Park, the night he was declared the winner of the 2008 election, Obama sought to capture that sentiment, quoting from Lincoln's first inaugural address: "We are not enemies, but friends.... Though passion may have strained, it must not break our bonds of affection."
And with the inauguration of the nation's first African-American president, we remember that, in 1864, with the Union war effort going badly, the national government might have been tempted to suspend the upcoming elections. Not only did Lincoln insist they take place, he staked his campaign on a controversial platform calling for the 13th Amendment, willing to risk everything on its behalf. When he went on to an overwhelming victory in November, he obtained a mandate to carry through his program. "[I]f the rebellion could force us to forego, or postpone a national election," he spoke to a gathered crowd from a White House window, "it might fairly claim to have already conquered and ruined us....[The election] has demonstrated that a people's government can sustain a national election, in the midst of a great civil war."
Around the world, governments routinely suspend elections, citing the justification of a "national emergency." Yet Lincoln set a precedent that would guarantee the voting rights of the American people through subsequent wars and economic depressions. Though our understanding of him is more nuanced than it once was, and we are more able to recognize his limitations as well as his strengths, Abraham Lincoln remains the great example of democratic leadership—by most criteria, truly our greatest president.
Philip B. Kunhardt III is co-author of the 2008 book Looking for Lincoln and a Bard Center Fellow.
Like this article?
SIGN UP for our newsletter
We Recommend
The fire in the tobacco barn was starting to rage, and inside was the most wanted man in America: John Wilkes Booth, the traitor who had shot President Abraham Lincoln at Ford's Theatre 12 days earlier.
Nursing a broken leg, Booth had made it 73 miles to Port Royal, Virginia, with federal troops in pursuit. Now the last of his accomplices had deserted him and he was cornered in the barn, surrounded by Union Army veterans hungry for vengeance. He had two choices: shoot his way out or surrender and face his crime.
A soldier by the name of Boston Corbett would decide the matter for him.
Corbett was watching Booth intently from his unit's formation around the barn. Through the cracks in the wall, he could see the fugitive shift in and out of view, a gun in hand. As the flames rose, Corbett trained his pistol on the image, even though the word from Washington was clear—Booth was to be taken alive.
Corbett, you see, wasn't the kind of soldier who followed orders easily, unless they came from God. He was a fervent Christian, and his faith had seen him through four years of battle, not to mention a punishing stint in one of the harshest Civil War prisons. He was ready for the fight to end.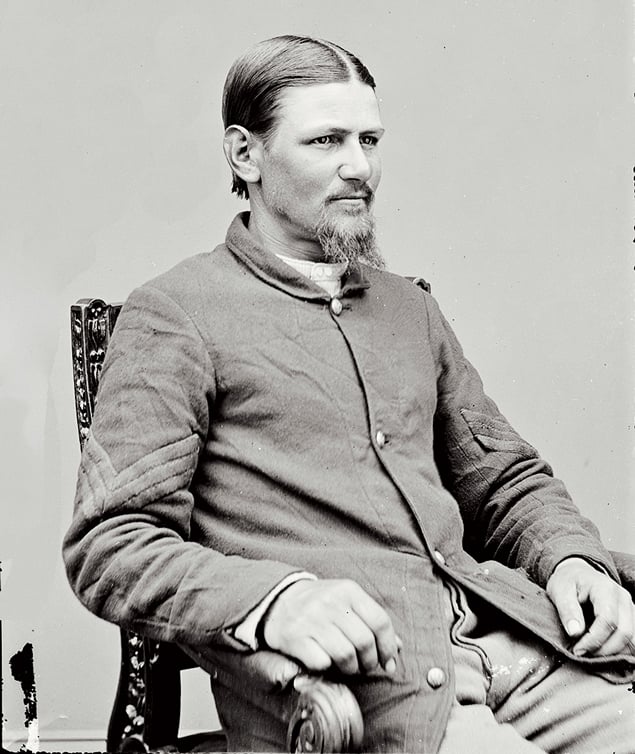 Boston Corbett. Photograph by Mathew Brady/Library of Congress
He walked closer to the fire, which a comrade had lit in an attempt to shake the fugitive loose, and stopped just paces away from the barn. Then he watched as Booth appeared to make up his mind by pointing his gun outside toward the Union troops, as if to fight his way out.
That was all Corbett needed to see. He defied Washington's orders and pulled the trigger. Booth fell to the ground, and hours later he was dead. Boston Corbett thus became Lincoln's Avenger: the man who killed the man who killed the President.
As positions of historical prominence go, it's a rarefied one. Three US Presidents were murdered after Lincoln, but only one of the assassinations—John F. Kennedy's—was followed by a similar (and much more storied) reprisal. Two days after Lee Harvey Oswald shot Kennedy in Dallas in November 1963, Jack Ruby killed Oswald with a .38 snub-nosed revolver on live television.
Ruby was a loosely mobbed-up nightclub owner who claimed he'd done it to save Jacqueline Kennedy from having to endure the pain of a long murder trial. Corbett had a less shady but still unorthodox past—he was a hat maker with a strong religious streak who claimed God had commanded him to bring Lincoln's killer to justice. Ruby went to prison; Corbett didn't.
But a peek at the pages of history—into old newspaper clippings, correspondence, and records held at the Kansas Historical Society in Topeka—reveals how much the assassins' assassins had in common. Like Ruby, Corbett ended up vilified after his unilateral action denied the public the chance to learn the full truth about the plot to kill the President. And Corbett, too, became fodder for conspiracy theories that followed him to his own strange end.
• • •
Boston Corbett's curious life began ordinarily enough. As a young man named Thomas Corbett, smallish with black hair and black eyes, he toiled in the hat trade in the Northeast, an honorable profession for a first-generation American in the mid-19th century. But the arc of Corbett's future shifted dramatically when his wife and first child died during the girl's birth.
Corbett became unhinged, seeking solace in the bottle. He staggered up and down New England, until one night in the late 1850s when he happened upon an animated scene on a Boston corner. A street evangelist was holding court, and Corbett was mesmerized by the message of God. He became a regular at sidewalk churches around the city, peppering street preachers' prayers with boisterous refrains of "Glory to God!" and "Come to Christ!"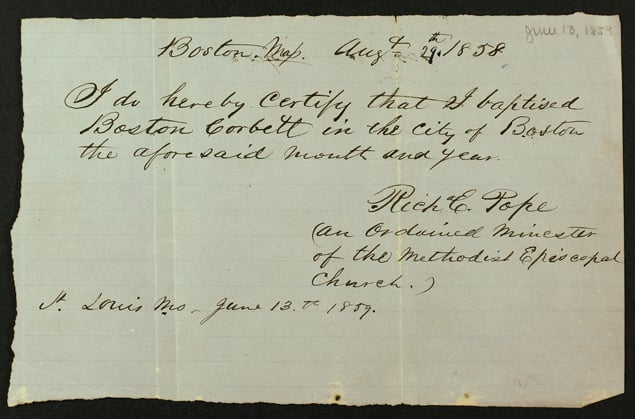 A certificate of Corbett's baptism as a born-again Christian, courtesy of Kansas State Historical Society.
The ministers eventually encouraged him to stake out a corner of his own, not so much because the young man had potential but to keep his annoying chorus at a distance. Corbett, now 26, took the advice. He would swear off liquor and grow his beard and hair long, styling himself in the image of Jesus. He also surrendered himself to a baptism by a Methodist minister—and was born again as Boston, in recognition of the town that saved him from the drink.
His rash tendencies exhibited themselves in strange ways. One day while he was ministering in the summer of 1858, Corbett was ogled by a pair of prostitutes, and the lower half of his body responded invitingly. He went home, took a pair of scissors, snipped an incision under his scrotum, and removed his testicles, then headed out to a prayer meeting.
In the Bible, Matthew 19:12 quotes Christ as saying "there are eunuchs who have made themselves eunuchs for the sake of the kingdom of heaven." Corbett made himself a eunuch and didn't check himself into Massachusetts General Hospital until he'd finished his prayers, had a full dinner, and taken a light stroll through the city that evening.
• • •
Weeks after healing, the castrated hat maker moved to New York City and resumed his trade. He remained a zealot, often attending the lunchtime prayers of the YMCA's Fulton Street meetings. Corbett's pious impulses were also what drew him into uniform. In 1861, amid the Confederate attack on Fort Sumter, Corbett enlisted in the Northern army, telling the women at his church that when he came eye to eye with his gray-suited enemies, "I will say to them, 'God have mercy on your souls'—then pop them off."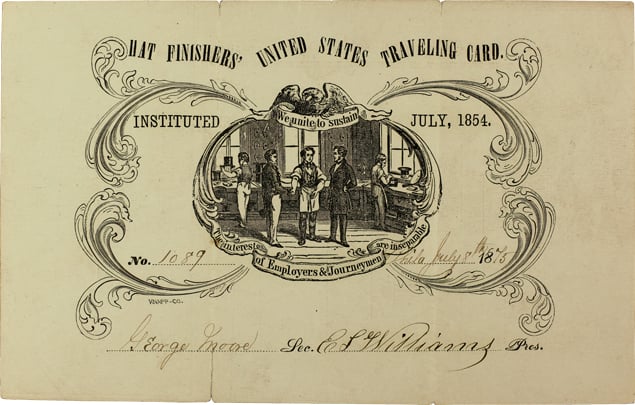 Corbett's hat-finisher traveling card, courtesy of Kansas State Historical Society.
His Jesus locks shorn, Corbett managed to conform to the military's uniform and grooming standards and was by most accounts a decent shot. But he never put country before God—and his religious rebelliousness was no match for even the hardest of commanders. During a drill in New York's Franklin Square, Colonel Daniel Butterfield (famous for composing the military taps) was livid at his troops' improper formations and gave them a tongue lashing laced with profanities. Corbett, who had yet to see a second of fighting, barked back: "Colonel, don't you know you are breaking God's law?"
Astonished, Butterfield sent Corbett to the guardhouse jail, where the soldier proceeded to one-up his commanding officer by singing hymns at the top of his lungs. Butterfield sent a messenger to warn the impetuous prisoner to stop it or else. Corbett kept on singing.
When Butterfield finally offered to release Corbett in exchange for an apology, Corbett responded, "No, I have only offended the colonel, while the colonel has offended God, and I shall never ask the colonel's pardon until he himself has asked pardon of God."
Exasperated, Butterfield sent his last order: Release Corbett from jail.
• • •
Four years of war later, as the North was celebrating the South's surrender, a stage actor and Rebel sympathizer named John Wilkes Booth snuck into Lincoln's box in the balcony of Ford's Theatre in Washington. The President and his wife were watching a comedy, Our American Cousin. Booth grabbed his .44-caliber derringer pistol and shot Lincoln in the back of the head.
"Sic semper tyrannis!"—Thus ever to tyrants!—Booth shouted in Latin as he stole for the exit. After an overnight vigil, the President died early in the morning. By then, Booth had escaped into the night.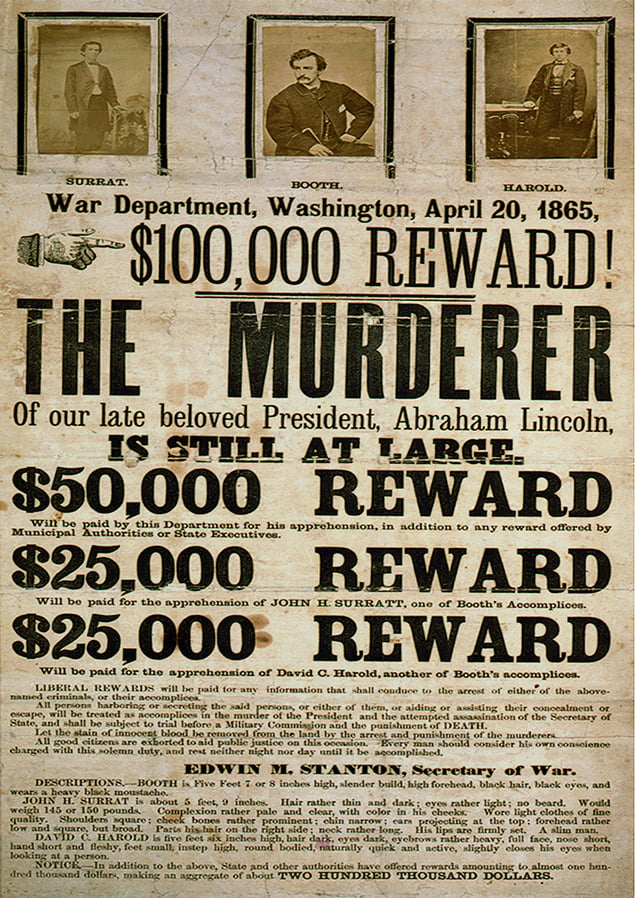 April 15 marks the 150th anniversary of Lincoln's murder by John Wilkes Booth. Reward Poster by Universal History Archive/Getty Images
Even half crippled—he had leapt from the balcony to the stage, caught his spur on the bunting, and broken his leg—Lincoln's killer eluded capture. Ten days after the assassination, the assailant was still nowhere to be found. To hunt the traitor, the government turned to the 16th New York Cavalry, the men who'd battled the infamous Confederate colonel John Mosby's raiders. It was Boston Corbett's unit.
Corbett was by now a hardened combat soldier. He had reenlisted three times, surviving traumatic events that had felled other men. Back in June 1864, while hunting Mosby's men, Corbett had found himself cornered by the so-called Gray Ghost's troops near Centreville, Virginia. His fellow soldiers were "nearly all compelled to surrender," according to Harper's Weekly, but not Corbett. He "stood out manfully, and fired his revolver and 12 shots from his breech-loading rifle before surrendering. . . . Mosby, in admiration of the bravery displayed by Corbett, ordered his men not to shoot him." Instead, Corbett was sent to Andersonville, the most notorious Civil War prison.
Andersonville, in south-central Georgia, was built for 10,000 captives but held some 32,000 at its peak—almost a third of the men who ended up in the disease-ridden prison never made it out. When he was paroled in November of 1864, Corbett and another Union fighter were the only POWs from their unit to survive the ordeal. And barely so. Corbett left with scurvy and intermittent fever, rheumatism, and "bloody flux," otherwise known as dysentery, a wartime ailment deadlier than combat.
Corbett spent some time recuperating at a hospital in Annapolis, then rejoined his regiment. Within a few months, the war was over. Lincoln was dead, his killer on the loose, and officials in Washington were apoplectic. During a church service several days into the dragnet, the head of the congregation asked Corbett to lead the flock in a blessing. "O Lord, lay not innocent blood to our charge," the 33-year-old sergeant prayed, "but bring the guilty speedily to punishment."
Not long afterward, volunteers from the 16th Cavalry regiment, led by Lieutenant Edward P. Doherty, prepared to go south into Virginia and hunt down John Wilkes Booth. Corbett was one of them.
• • •
The detachment left Washington via steamer on April 24 and headed about 50 miles down the Potomac to a landing at Belle Plain, Virginia. After a day of fruitless searching, the volunteers received a tip from a fisherman and his wife that men fitting Booth's and his accomplice David Herold's descriptions had crossed the Rappahannock River and were headed toward Bowling Green in Virginia's Caroline County. The same informants suggested that the men were aided by a soldier named Willie Jett, who happened to be sweet on the daughter of a certain innkeeper in Bowling Green.
It was now midnight on April 26. After knocking on several doors there, Doherty's men found Jett at a hotel and rousted him from bed. Jett wasn't about to give up Booth and Herold, but Doherty informed him that he "should suffer" if he didn't do so. Jett agreed to lead them 12 miles to land near Port Royal owned by a farmer named Richard Garrett, where Jett had left the men two days earlier.
"Arriving at Garrett's Farm," Corbett later wrote, "the lieutenant said to me, 'Mr. Booth is in that house, ride through the command, and see that every man's pistol is in readiness for use.' "
When Doherty asked after the fugitives, Garrett claimed they were in the woods. Doherty didn't buy it. So, as he later told the Washington brass, he "seized this man by the collar, and pulled him out of the door and down the steps, put my revolver to his head and told him to tell me at once where the two assassins were; [Garrett] replied, 'in the barn.' "
It was after 2 AM by now. Doherty's men descended on the tobacco barn and formed a ring around it, Corbett included. From inside, Booth was trying to talk himself out of the jam. "Captain, draw off your men fifty yards!" Booth shouted, according to a soldier in the 16th Cavalry. "A cripple as I am with only one leg and cannot walk without a crutch. I would like a chance for my life." Doherty refused.
It was dark, but there were cracks in the barn walls, and from his position, Corbett claimed to have eyes on their shifty target—he wanted to charge the barn himself. But when he asked for permission to try flushing the assassin out into the open, he was denied.
Meanwhile, the back-and-forth between Booth and Doherty continued for an hour, until Booth yelled that there was "a man here who wants to surrender awful bad." Out came Herold, the accomplice. And Booth started talking again.
Concluding that their target was never coming out, a federal investigator named Everton Conger took a clutch of dry hay, lit it on fire, and stuck it through a crack in the barn. As the flames climbed toward the night sky, Corbett made his move toward the barn for a better look and pulled the trigger.
• • •
"What on earth did you shoot him for?" yelled Lafayette Baker, another government detective, as he rushed to yank Booth out of the burning barn.
The orders from Washington were not to take the fugitive dead or alive—the War Department wanted Booth in the flesh. His motives for killing Lincoln were still a mystery, and officials knew they had a conspiracy to root out—possibly even one orchestrated by Confederate president Jefferson Davis. They needed their target to talk.
Booth was carried to the front porch of the Garrett house and placed on a makeshift mattress. "Kill me," he whispered later. He asked to see his hands, so one of the soldiers lifted his paralyzed limbs. "Useless, useless," Booth muttered. He died around 7 am.
The government detectives immediately cast aspersions on Corbett, the trigger-happy sergeant who had just deprived the nation of a trial for the President's murderer. All because, he said, "God Almighty directed me to." Instead of the assassin, it was Corbett who was sent back to Washington to be questioned.
• • •
In the end, Corbett was spared a court martial. Rather than punishing him, War Secretary Edwin Stanton declared him a patriot. "I did not fire the ball from fear," Corbett testified at the trial for Booth's conspirators in May of 1865, "but because I was under the impression at the time that he had started to the door to fight his way through, and I thought he would do harm to my men if I did not."
Corbett collected his small share— $1,653.85—of the $50,000 reward and asked to keep his horse. "He isn't very valuable," he told the New York Tribune. "But I've got so attached to him that I would like to take him home."
Corbett became a folk hero. He was photographed by Mathew Brady, the most famous photographer of the era, and the images of him in dress fatigues were duplicated on photograph cards. He even went on a publicity tour, telling his tale at meetinghouses and Sunday schools.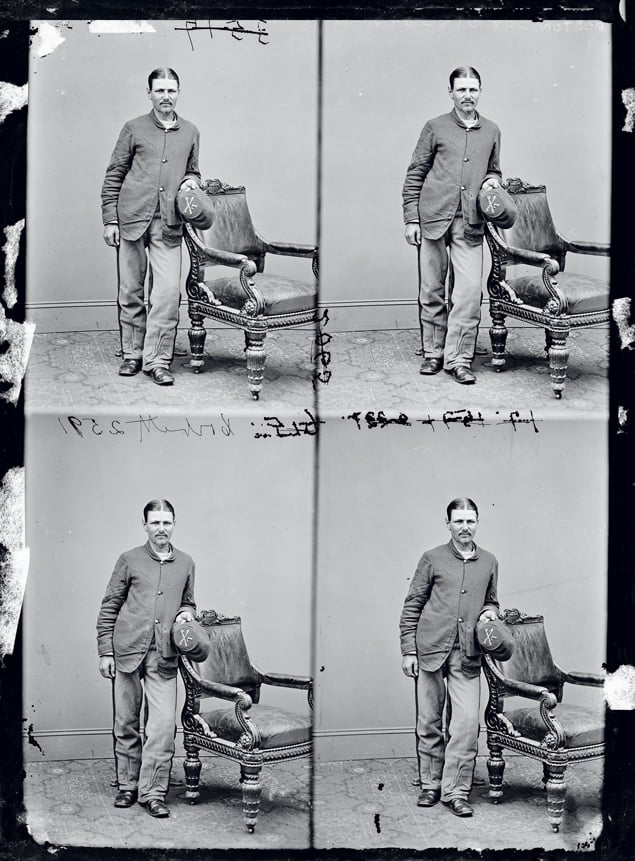 After killing Booth, Corbett posed for famed photographer Mathew Brady, and traveled the country to tell the story of that night. Photographs by Mathew Brady/Library of Congress.
But before long, the country was eager to move on. Corbett went back to ply his trade as a silk-hat finisher. Later, he worked as a lay preacher, making $250 a year. As his notoriety and income diminished, he became erratic and moody. By 1874, he was increasingly tormented by conspiracy theories that Booth was actually still alive and by rumors that Southern sympathizers wanted to kill Corbett in the assassin's name.
In a letter appearing in the Cleveland Leader, a soldier named Private Dalzell, surmised to be a friend of Corbett's, claimed that Corbett was "pursued by threatening letters every day" and received "no less than a dozen" along the lines of one that read: "HELL, September 1, 1874. —Boston Corbett, Nemesis is on your path. J. Wilkes Booth."
Dalzell wrote that Corbett was "insulted wherever he appears in public. . . . [H]e is hated by one-half of the American people and despised by the other half for the only crime ever yet alleged against him—that . . . he robbed the haughty officers of a play where they would all have been star actors."
Having spent much of his life in the hat industry, Corbett could have been succumbing to mercury poisoning. The ill effects of the mercury vapors used in finishing, Corbett's specialty, had become public by this time, even part of folklore after Lewis Carroll introduced the country to the Mad Hatter in Alice's Adventures in Wonderland in 1865.
By 1878, Corbett had had enough. He hitched a black pony to a wagon and headed west. Along the way, he stayed with a soldier from Company L, who later wrote that "wherever [Corbett] goes he says Nemesis pursues him, and the troubled spirits of revenge will not let him rest. He is in constant fear of assassins."
Corbett, then in his mid-forties, finally settled 1,500 miles from home, in Cloud County, Kansas, and homesteaded 80 acres. He built a one-room hovel with a wooden floor and rocked walls. Suspicious of anyone who ventured near his dugout—fearing that someone, perhaps Booth's avenger, was out to get him—Corbett presented his pistol to most who approached. He even shot at children who got too close.
On Sundays, he rode into town to attend church astride his only friend, a pony named Billy. At the end of the sermon, he'd tell the preacher, "The Lord wants me to say a few words." Then he'd remove a pistol from each boot, place the guns on either side of the Bible, and hold forth.
• • •
Corbett was deteriorating. "I have been very bad for the last six years," he stated in 1882, pleading for more disability benefits he thought he was owed for serving in uniform: "I don't think I have been able to earn $20.00 during the whole time from 1877 to 1882 by manual labor." At one point, he actually dug his own grave and told a neighbor that when he died, he should be buried in a new Army blanket.
In 1886, a veterans' organization took pity on the old codger and offered him the assistant doorkeeper's post at the Kansas State Legislature in Topeka. The job didn't last long. One day, after some kind of dispute—accounts of the day vary wildly—Corbett brandished his gun inside the statehouse. That was it. Kansas officials shut him away in a mental asylum in Topeka.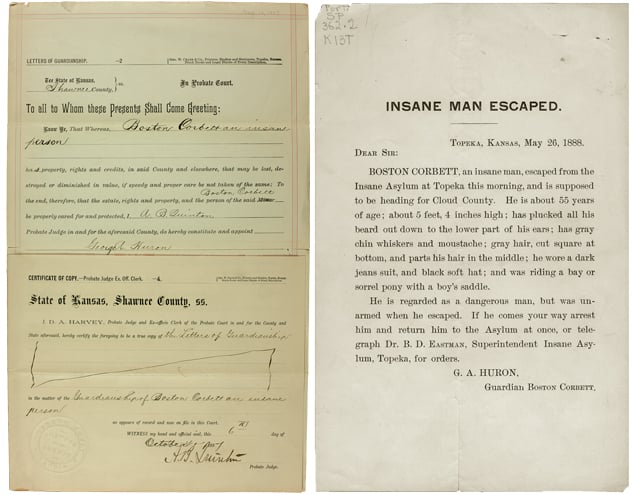 (Left) A Kansas court record declaring Corbett insane; (Right) a bulletin announcing Corbett's escape from the Topeka asylum, noting that he "plucked all his beard out down to the lower part of his ears." Documents courtesy of Kansas State Historical Society
But that wasn't the end of Boston Corbett. On May 26, 1888, as the inmates were exercising, Corbett spied a delivery boy tethering his horse in front of the asylum. He broke away from the group, jumped on the horse, and took off.

Corbett's train ticket to Beloit, Kansas, when he was en route to his last known home, courtesy of Kansas State Historical Society.
Corbett rode to Neodesha, Kansas, to the home of fellow Andersonville inmate Richard Thatcher. There he tied a note to his "borrowed" horse, explaining who its rightful owner was, and set it free. Then a relative of Thatcher's took him to Brooks station, a train stop on the St. Louis-San Francisco Railway. He said he was going to Mexico, but no witnesses remembered anyone matching Corbett's description boarding the train.
He was never heard from again.
Still, rumors trickled in: Corbett drowned in the Kansas River. One theory had him targeted by ruffians still bitter over the Bloody Kansas battles. Another had him moving to Hinckley, Minnesota, and later perishing in the Great Hinckley Fire of September 1, 1894. The best evidence of that hypothesis came from a survivor named Frank Haney, who in 1954 wrote an account of the conflagration and recalled an older Boston man named Tom Corbett, who was good with a rifle and was hired to hunt game for the crew at Gus Sexton's Minnesota logging camp in 1890. In this version of his demise, the real Corbett wasn't able to keep up with the younger men who escaped the flames by foot.
In the early 1900s, the federal pension bureau heard about a Boston Corbett who claimed he was alive and well and wanted his pension checks. But an investigation shed some doubt on the claim. The weathered old fellow, who went by the nickname Old Trapper, gave only vague details about Booth's killing, professing he couldn't think straight. It was also noted that the new Corbett stood six feet tall—a full eight inches taller than the original. The imposter, a onetime patent-medicine salesman named John Corbett, was jailed.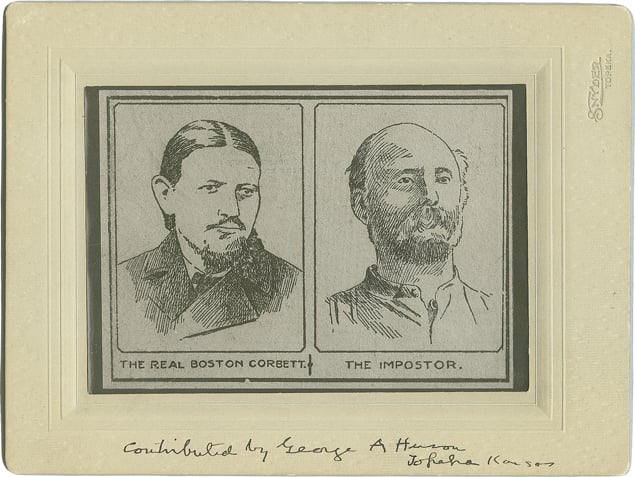 A sketch of the medical salesman who posed as Boston Corbett after he disappeared, courtesy of Kansas State Historical Society.
And that was the last news of the mysterious Boston Corbett. As his friend Private Dalzell wrote to the Cleveland newspaper: "In Greece and Rome, even in England and France, the avengers of their sovereign's death were loaded with gifts and public honors. Not so Corbett. He is reviled as a lunatic and laughed at as a rash religious fool."
In fact, there is one memorial to Lincoln's avenger. A ramshackle fenced-in pen about 3½ miles from Concordia, Kansas, marks the man's last home. In 1958, a Boy Scout troop erected a stone plaque there to point out the "Boston Corbett Dugout." Above the words are the sunken outlines of two revolvers: six-shooters embedded in the rock by the Scouts. Sometime between then and now, the guns were stolen by thieves.
This article appears in our April 2015 issue of Washingtonian.
---